In a statement published minutes ago, Yiannopoulos said, "Breitbart News has stood by me when others caved," continuing, "I would be wrong to allow my poor choice of words to detract from my colleagues' important reporting, so today I am resigning from Breitbart, effective immediately."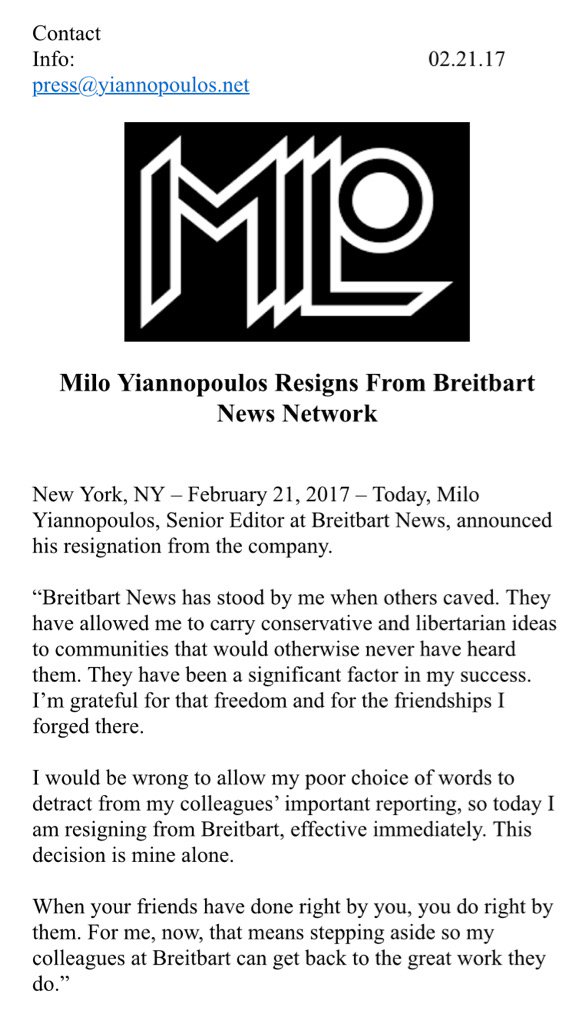 Media uproar occurred when the Breitbart editor and outspoken Donald Trump supporter joked that being molested had made him good at oral sex.
Hours after CPAC uninvited him on Monday, Simon & Schuster cancelled the publication of Yiannopoulos's highly-anticipated book Dangerous; Matt Schlapp, the chair of the American Conservative Union, said Tuesday morning, "Over the weekend I was made aware of these comments and it just broke through very important boundaries and we felt like the CPAC stage was not an appropriate place for this any longer."
Yiannopoulos responded to the outcry insisting that he has an "utter disgust [for] adults who sexually abuse minors" while acknowledging that "these videos, even though some of them are edited deceptively, paint a different picture."
"Breitbart News has stood by me when others caved. They allowed me to carry conservative and libertarian ideas to communities that would otherwise never have heard them. They have been a significant factor in my success. I'm grateful for that freedom and for the friendships I forged here," Yiannopoulos said in a statement.
"I am horrified by pedophilia," he said during the press conference. "I do not support child abuse."
During Tuesday's press conference, Yiannopoulos said he will continue to make jokes and mock issues that are often considered controversial. His comments have resulted in being uninvited to speak at CPAC, Simon & Schuster canceling his book deal and now he has stepped down as the Breitbart tech editor.
Yiannopoulos concluded his resignation statement: "When your friends have done right by you, you do right by them. For me, now, that means stepping aside to my colleagues at Breitbart can get back to the great work they do."
He previously defended his comments on Facebook: "I am a gay man, and a child abuse victim… My own experiences as a victim led me to believe I could say anything I wanted to on this subject, no matter how outrageous."
Comments
comments
Disclaimer: The content of this post reflects the views of the author, and not necessarily those of MBGA News.
---
HELP!!

We can't do this alone!

Britain needs you.
We know you want us to keep up our hard work. Almost 30,000 people have subscribed to our YouTube channel. Some of our videos have been watched by half a million people!
YouTube demonetise almost all our content for being "controversial". We actually make a loss on this. If you want us to keep making these reports, a beer is all it takes. Yes, just a fiver to MBGA News a month can ensure we challenge the British media which is state-owned/funded and lefty.